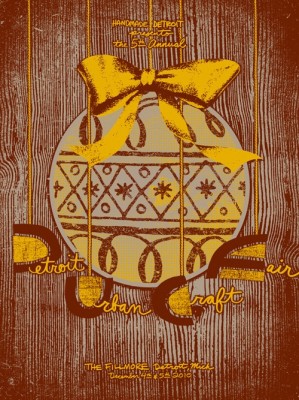 On Sunday, Scott and I met up with a girl I met at Spinner's Flock and went to the
Detroit Urban Craft Fair
, which was held at the
Fillmore
in downtown Detroit. It's a beautiful theatre with painted freezes, and the vendors were spread out throughout, wherever there was space for a table.
We only purchased a few things: some fun buttons, a mustache hand mirror, and a fabric flower fascinator, but I did what I typically do and picked up a number of cards for things I thought were worth noting, before I decided what to buy.
Information on those vendors after the jump.
I liked these crocheted bow-ties from
Mitten Made
, and she also had some super cute crocheted coin purses with felt appliques, which I almost bought.
I loved the patinated copper offerings and dangling brass filigree earrings from
Courtney Fischer Jewelry
.
Earthenware beads and steampunk jewelry from
Earthenwood Studio
. My favorite was the
Detroit skyline necklace
, above.
Yarn, rovings, hand knits, and patterns from
Cosymakes
.
Brass necklaces from
Chain Chain Chained Jewelry
.
Mini tube-robots from
Deets
.
Super cute fabric and stamps from
Frizzlestix
.
Ruffle necklace from
Pretty Things by Meg
.
Gorgeous fabrics and screen prints from
Indriya
. (She was super nice to talk to, too.)
Super cute printed napkins and clothing form
Jennifer Joy Creative
.
The people from
Cyberoptix
with the always awesome ties showed up.
The folks from
i3Detroit
taught people how to use electroluminescent wire to make a blinking cowboy hats.
If I had kids to buy or sew for, I would have been into the cute clothes and patterns from
One Girl Circus
.
On the way out, I snagged a 10% off coupon for
City Bird
(a Detroit store that sells locally handmade, Detroit themed stuff) or
Bureau of Urban Living
(a local home goods store). Both are located in
Midtown
.