(photo via
The British Monarchy photostream)
I had conflicting feelings about watching Wills and Kate's wedding today. A very large part of me felt that the hoopla was strange. The thing that really threw me was weeks ago when I first saw
Craft magazine
posts about items one could make to commemorate the wedding. It seems so strange to me that people would make or even buy things to remember a wedding of people they don't even know. It is even more strange to me since I went to school with the guy, if only briefly. My semester abroad at the
University of St. Andrews
was also his first semester there. I'm only a year older than him, though, because he took a gap year before starting uni. I have only crossed paths with him, never met him. The people I knew who knew him said that he was nice, and in many ways he just wanted to be a normal guy. You could tell that he wanted to just blend in -- he often wore a baseball cap to obscure his face and make himself less recognizable. Of course, no one else wore one, so that didn't work so well. He also liked ceilidh dances, which is a big point in his favor. In the end, I guess I had months to get used to the idea that he was just another guy at school with me. I suppose I went to school with Kate as well, but I don't believe I ever met her or knew anything about her. On the other hand, there are a number of ways I could have met her and I just don't remember her. She certainly wasn't in my group of friends. At any rate, I wouldn't normally be concerned about the wedding of a friend-of-a-friend or a classmate I don't know, so it seems strange to follow theirs. Perhaps I felt like I was being a voyer in the life of someone I knew just wanted to be left alone.
On the other hand, I was curious. I follow street fashion blogs, sewing blogs, and crafting blogs, so why should I avoid this one wedding like the plague? It isn't as though there was any way that this could be a private affair for William and Kate, regardless of whether
I
was watching. I am certain that this has been a major lesson throughout his life: that he can never be normal. This was a special occasion, and they were both preparing for the public nature of it. My curiosity was especially piqued by
a recent post on The Sew Weekly showcasing several royal wedding dresses from the last century
. Via that post, I also saw
a video of Royal Wedding dresses currently on display at Kensington Palace
and
Queen Elizabeth's coronation gown
. I still think the media hype calling Kate's wedding dress the "dress of the century" was a bit overblown; a century is a very long time. Really, at the very least, what about in twenty or thirty years when their eldest marries? Still, it's expected to have a big impact on fashion, and why shouldn't I look at it? I did watch the wedding as I worked on sewing myself a ball gown that I hope to wear to
the Scottish Country Dance ball in Ann Arbor on the 14th
. Somehow, it seemed appropriate to me to be sewing while watching.
The dress, of course, was stunning. The uniforms were striking. I felt so sorry for both of them, though, because the only people who could stand up there with them were their family members, no friends. When I saw that each of them only really had their siblings, it really underlined for me how isolating it is to be royalty.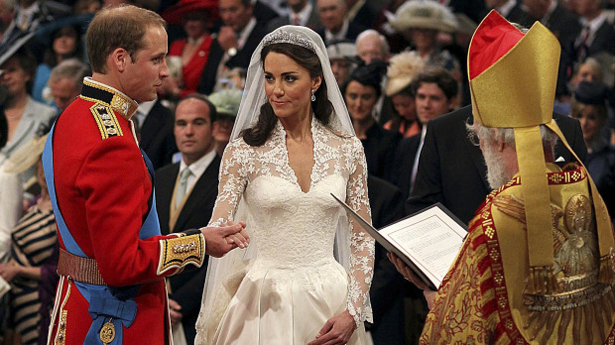 (image from
Burda Style
)
On a lighter note, the dress was truly beautiful. When it comes to royal dresses, it most resembled Grace Kelly's dress, as seen in the Sew Weekly post, though the shape and certainly the neckline may be closer to
Princess Margaret's dress
. I was especially interested in some of the
detailed information about construction on the official wedding website
. Carrickmacross lacemakers at the Royal School of Needlework at Hampton Court Palace appliquéd rose, thistle, daffodil and shamrock motifs hand cut from English Cluny lace and French Chantilly lace onto the skirt, underskirt, shoes, veil, and most especially the bodice and sleeves of the dress. If you look closely at the photo above, you will see the intricate and precise placement of the motifs. This excellent craftsmanship is particularly interesting to me after learning a little about traditions of English lace making from
The Edwardian Farm
. Devonshire lace takes about one hour to make per square inch. Apparently, in the Edwardian era, lace was the jewelry of the time, with corresponding prices. Just imagine the cost of such a piece in man hours! Of course, appliqué is faster, and I believe the lace sources were machine made, but I am certain that hundreds of hours went in to Kate's ensemble, not to mention her sister's dress and the little girls' dresses. William's collar and cuffs were also created by the Royal School of Needlework.
(image from
LA Times
)
Another thing I especially enjoyed reading about was the tiara. Of course, during and after the ceremony, it was clear that they are very happy with each other and they care about each other very much. They have waited a while to get married, and I am certain that it was important to William to be careful about it. Their connection was very clear from the looks they shared. However, there was a question about what the queen thought of Kate, the fact that the couple had already shared a flat, etc. To me, the official wedding website's passage about the tiara spoke volumes about the Queen's approval:
The veil is held in place by a Cartier 'halo' tiara, lent to Miss Middleton by The Queen. The 'halo' tiara was made by Cartier in 1936 and was purchased by The Duke of York (later King George VI) for his Duchess (later Queen Elizabeth The Queen Mother) three weeks before he succeeded his brother as King. The tiara was presented to Princess Elizabeth (now The Queen) by her mother on the occasion of her 18th birthday.
This tiara would have been personally special to the Queen, and wearing it into Westminster Abbey was as though she was wearing the Queen's blessing. Or at least, so it seems to me. At any rate, I do hope that the rest of the royal family continues to get along well with her, and that things are happy for the both of them, and they get a little peace and quiet now that the festivities are over. After all, how could I wish less for a friend-of-a-friend?